H350FC Formate Gear Cutting Machine
Source:Changsha links-ks Release time:2020-03-22 20:12:50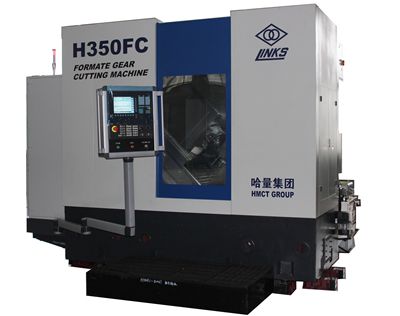 Product characteristics:
― H350FC Spiral bevel gear milling machine is a six axis five linkage CNC spiral bevel gear machining machine.
― It can be used not only to machine Gleason gear with face milling method, but also to machine Oerlikon gear with face hobbing method.
― It can not only be used for dry cutting with new structure cutter head, but also for using oil-cooled device to achieve wet cutting with traditional cutter head.
― Tool spindle and workpiece spindle adopt direct drive technology.
― The machine adopt Siemens S840DSL numerical Control system.
― The machine has good rigidity, stable performance, convenient clamping and high machining efficiency.
Optional devices:
― fixture
― Cutter head
― Transition sleeve
― Cooling oil supply device
Technical parameter:
H350FC
Face milling method
Face hobbing method
Maximum workpiece diameter(mm)
350
350
Maximum Module(mm)
10
10
Maximum tooth depth(mm)
20
20
Maximum face width(mm)
60
60
Machining accuracy(DIN)
5
5
Cutter size
3.5"~9"
51mm~105mm
Cutter head shaft speed(rpm)
0~900
0~900
Large end diameter of workpiece shaft(mm)
φ99.219
φ99.219
Taper of inner hole of workpiece shaft
1:19.6923
1:19.6923
Through hole length of workpiece shaft(mm)
310
310
Workpiece shaft speed(rpm)
0~450
0~450
Range of B-axis (root angle)(°)
0~90
0~90
Rotation speed of B-axis (root angle)(rpm)
0~5
0~5
Machine Dimension
(L×W×H,mm)
3660×2350×2940
Machine Weight(kg)
16000
Floor space(L×W,mm)
4000×5150