H650C CNC Spiral Bevel Gear Cutting Machine
Source:Changsha links-ks Release time:2020-03-22 20:10:11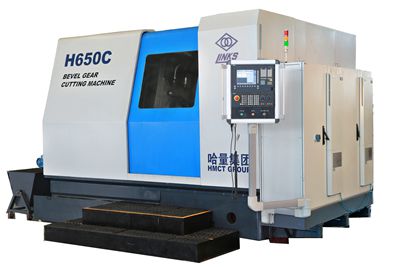 Product characteristics:
  -H650C CNC Spiral Bevel Cutting Machine is a six-axis five-linkage CNC gear milling machine.
  - The machining method of end milling tooth can be used to process Gleason tooth circular bevel gear, and Olikong tooth cycloidal bevel gear can also be machined by end face hobbing method.
  - It can not only be used for dry cutting with new structure cutter head, but also for using cooling oil supply device to achieve wet cutting with traditional cutter head.
  - Tool spindle and workpiece spindle adopt Direct Drive Technology.
  - The machine adopt Siemens s840dsl numerical Control system.
  - The machine can achieve automatic tool alignment and automatic allowance allocation.
Technical Specifications:
H650C
technical parameter
Face hobbing method
Maximum workpiece diameter(mm)
650
650
maximum modulus(mm)
18
18
Maximum tooth depth(mm)
35
35
Maximum tooth surface width(mm)
115
115
Machining tooth number
1~200
5~200
Machining tooth number
1:200
1:10
working accuracy(DIN)
5
5
Cutter plate size
7.5"~18
88mm~200mm
Cutter shaft speed(rpm)
0~600
0~600
Large end diameter of workpiece shaft
Ø152.4
Ø152.4
Workpiece shaft through hole length
480
480
Workpiece shaft speed
0~450
0~450
Workpiece shaft inner hole taper
1:16
1:16
Working table rotation angle(°)
-5~90
-5~90
Working table swing speed(rpm)
0~5
0~5
Mainframe dimension(L*W*H, mm)
3970*3360*3040
Mainframe weight(kg)
31000
floor space(L*w, mm)
5660*4100